Bluebird Gardens Baby Quilts
Bluebird Gardens custom and one of a kind crib quilts, baby quilts and quilted wall hangings for home decor with a free toy.
Noah and Friends Baby Quilt Quilt Wall Hanging
Noah and Friends Baby Quilt Quilt Wall Hanging
Charming Noah and Friends Baby Quilt was made in Missouri, USA and features a combination of detailed appliqué, patchwork embroidery and quilting.
Noah in the center block with the ark is surrounded by white background quilt blocks with friends: lion, elephant with his pink mouse friend; alligator; giraffe; zebra; kangaroo and money all beautifully sewn.
Detailed machine stipling quilting, as well as a variety of pattern designs, gives Noah and Friends baby quilt blocks extra design and texture. This lovely one of a kind baby quilt would make a lovely quilt wall hanging. Add tabs on the back or use wooden quilt hangars.
This extra large 60x70 inch quilt has 4-inch blue and white fabric borders at the top, and bottom, where custom embroidery can be added to personalize with baby's name.
Wash in cold water; dry on cool.
Additional customization available after adding an item to cart.
Size: 60x70 inches
Follow these steps to add custom embroidery:
Add this quilt to your cart
Scroll down page and add "Custom Embroidery Letter" to cart.
Scroll further down and add "Custom Embroidery Set-up Charge" to cart
Ship to a different address in gift box:
Send buyer photo of final product: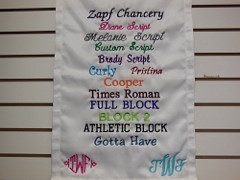 Custom Embroidery Letter
Personalization Makes Great Personalized Gift Ideas
Our products make great personalized gifts and personalized home decor for a variety of occasions or to make an occasion special!
You can add embroidered names, dates and special wishes with custom embroidery to make monogrammed and personalized gifts out of quilts, throws and other products.
Quantity is how many letters you need for your message.
Example: "Happy Birthday" in 1/2" size = Letter Size: 1/2" and Quantity: 13
Custom Embroidery Set-up Charge
Set-up charge required once for each custom embroidered product.
Rush charge available for embroidered products if you need delivery in less than 2 weeks.