Bluebird Gardens Baby Quilts
Bluebird Gardens custom and one of a kind crib quilts, baby quilts and quilted wall hangings for home decor with a free toy.
Now I Lay Me Down Crib Quilt Gift Set
Now I Lay Me Down Crib Quilt Gift Set
We all know the bedtime prayer "Now I lay me down to sleep, I pray the Lord my soul to keep, if I should I die before I wake, I pray the Lord my soul to take. Amen."
The prayer is scattered through 9 different machine embroidered blocks in a dark pink against a white cotton fabric background in this one of a kind baby crib quilt. A multi-patterned floral fabric with pink and lime green forms the frames around the blocks with lime green and white checked square blocks at the corners. Pink binding with a white backing and poly/cotton fill for easy care. Made in Missouri, USA.
Wash in cold; dry on cool. We added apink rabbit toy that, when pressed, says the prayer in a little girl's voice.
We added an 8.5 inch sweetly patterned pink fabric border to both the top and bottom of this 36x48 inch standard baby crib quilt so you can your own personal touches. Printed alphabet blocks primarily in green inspired the addition of the frog toy to deliver your message on a free gift tag, just tell us what you would like us to write on the card.
We used renewable, sustainable bamboo fill for the quilt fill and finished with easy care machine quilting. Wash in cold; dry on cool.
You can personalize this baby quilt by adding your own hand-embroidery; the last block of the alphabet has a place where you can add your name to the dedication "Stitched with love by" anda line where you can add your name.
Additional customization available after adding an item to cart.
Size: 36x48 inch crib quilt. Praying bunny is 8 inches tall.
Follow these steps to add custom embroidery:
Add this quilt to your cart
Scroll down page and add "Custom Embroidery Letter" to cart.
Scroll further down and add "Custom Embroidery Set-up Charge" to cart
Ship to a different address in gift box:
Send buyer photo of final product: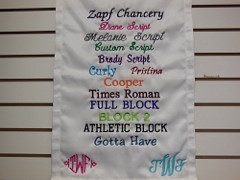 Custom Embroidery Letter
Personalization Makes Great Personalized Gift Ideas
Our products make great personalized gifts and personalized home decor for a variety of occasions or to make an occasion special!
You can add embroidered names, dates and special wishes with custom embroidery to make monogrammed and personalized gifts out of quilts, throws and other products.
Quantity is how many letters you need for your message.
Example: "Happy Birthday" in 1/2" size = Letter Size: 1/2" and Quantity: 13
Custom Embroidery Set-up Charge
Set-up charge required once for each custom embroidered product.
Rush charge available for embroidered products if you need delivery in less than 2 weeks.