Custom Handmade Quilts
Bluebird Gardens custom handmade quilts, custom photo quilts, custom baby quilts, custom t-shirt quilts, custom memory quilts, custom wedding dress quilts, custom double wedding ring quilts, custom baby quilts, custom throws, custom quilted wall hangings and other custom quilts made to order.
Custom Scrapbooking Blocks Quilt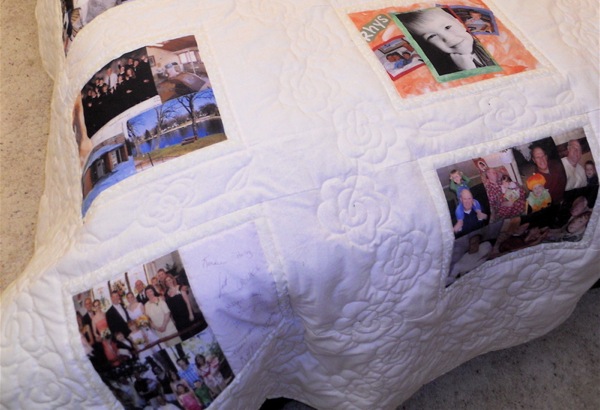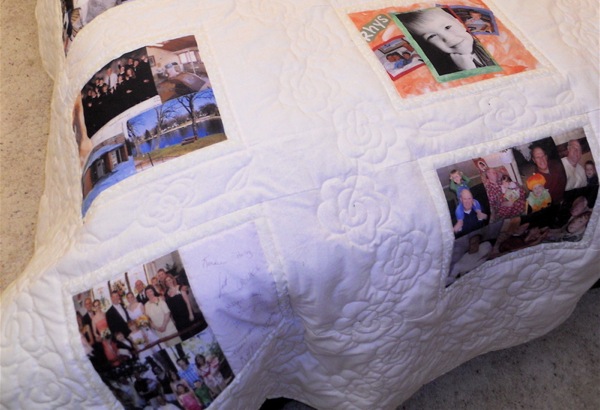 Custom Scrapbooking Blocks Quilt
Custom Scrapbooking Blocks Quilt displays favorite photos transferred onto photo fabric blocks that are framed with a complimentary fabric cotton. Each quilt is pieced with custom cotton fabrics and finished with very detailed machine outline and pattern quilting for ease of care. In this example, we used a rose pattern. You can also have us print special certificates, tickets and other memorabilia including original artwork and signatures onto fabric blocks to form quilt blocks. The custom queen size 95x117 inch quilt in photo has 30 photo blocks outlined in a complimentary cream and white patterned cotton. If you would rather have photos only in the center of the bed, not as part of the pillow tuck or on the sides, total photo blocks for a queen size quilt would be 20. If you only want photo blocks over the entire quilt but not as a pillow tuck, plan on 30 photo blocks. Backing is a white cotton unless you specific a different fabric color. The quilting is very detailed and the quilts are so nicely finished you can use the back side for an all white quilt look, making these lightweight quilts reversible.
We can also make the backing a patterned fabric to give you two different quilt looks in one. Usually quilt backs are white or cream to compliment the design on the front.
Price is an estimate; you will get a final price once all details are discussed and prior to our starting to make your custom quilt. Please allow 12 weeks for delivery once all details are finalized. We ask for a 25% deposit of the final price prior to starting on the custom quilt; the remainder when the finished custom quilt is shipped. You will get photos along the way so you will literally see how your custom quilt is being made. Custom quilts are not returnable or refundable. Made in Missouri, USA.
Additional customization available after adding an item to cart.
Follow these steps to add custom embroidery:
Add this quilt to your cart
Scroll down page and add "Custom Embroidery Letter" to cart.
Scroll further down and add "Custom Embroidery Set-up Charge" to cart
Ship to a different address in gift box: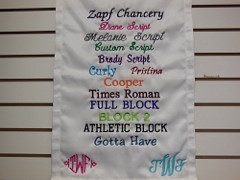 Custom Embroidery Letter
Personalization Makes Great Personalized Gift Ideas
Our products make great personalized gifts and personalized home decor for a variety of occasions or to make an occasion special!
You can add embroidered names, dates and special wishes with custom embroidery to make monogrammed and personalized gifts out of quilts, throws and other products.
Quantity is how many letters you need for your message.
Example: "Happy Birthday" in 1/2" size = Letter Size: 1/2" and Quantity: 13
Custom Embroidery Set-up Charge
Set-up charge required once for each custom embroidered product.
Rush charge available for embroidered products if you need delivery in less than 2 weeks.