Custom Handmade Quilts
Bluebird Gardens custom handmade quilts, custom photo quilts, custom baby quilts, custom t-shirt quilts, custom memory quilts, custom wedding dress quilts, custom double wedding ring quilts, custom baby quilts, custom throws, custom quilted wall hangings and other custom quilts made to order.
Custom T-Shirt Mixed Blocks Extra Large Quilts
Custom T-Shirt Mixed Blocks Extra Large Quilts
Custom T-Shirt Mixed Blocks Quilt features your favorite t-shirts and sweatshirts in a random patchwork block pattern of various shapes and sizes. The random design allows us to incorporate more t-shirts, logos and other details. Fabrics that are stretchable are stabilized so they don't get pulled during quilting or during daily use.
These custom extra large t-shirt quilts are made in larger sizes than standard quilts to cover additional padding that may be added to the bedding. Our extra large quilts also provide more coverage over the mattress so depending on how much extra padding is present, the quilts may not require a bed skirt.
Our custom t-shirt quilts are finished with detailed outline machine quilting. Backing is white cotton unless you want a different fabric. You can provide the fabric for the backing or specify a different color for the backing. You can also add custom embroidery with someone's name and birth date, graduation date or other special occasion. Our custom quilts are larger than standard size quilts to give you full coverage over padded mattresses and over pillows so you don't need pillow shams.
Perfect decor for the new nursery, a 36x48-inch baby crib quilt size quilted wall hanging featuring a favorite embroidered saying in 3-inch letters surrounded by 4-inch blocks in custom colors to match nursery decor. Finished with machine outline quilting around letters and a rose pattern quilting around the blocks with loops on the back so it can easily be used as a wall hanging. Price is an estimate; you will get a final price before we get started on your custom order.
Additional customization available after adding an item to cart.
Follow these steps to add custom embroidery:
Add this quilt to your cart
Scroll down page and add "Custom Embroidery Letter" to cart.
Scroll further down and add "Custom Embroidery Set-up Charge" to cart
Ship to a different address in gift box: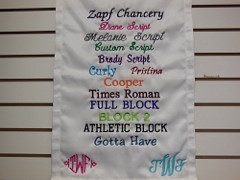 Custom Embroidery Letter
Personalization Makes Great Personalized Gift Ideas
Our products make great personalized gifts and personalized home decor for a variety of occasions or to make an occasion special!
You can add embroidered names, dates and special wishes with custom embroidery to make monogrammed and personalized gifts out of quilts, throws and other products.
Quantity is how many letters you need for your message.
Example: "Happy Birthday" in 1/2" size = Letter Size: 1/2" and Quantity: 13
Custom Embroidery Set-up Charge
Set-up charge required once for each custom embroidered product.
Rush charge available for embroidered products if you need delivery in less than 2 weeks.