Custom Handmade Quilts
Bluebird Gardens custom handmade quilts, custom photo quilts, custom baby quilts, custom t-shirt quilts, custom memory quilts, custom wedding dress quilts, custom double wedding ring quilts, custom baby quilts, custom throws, custom quilted wall hangings and other custom quilts made to order.
Custom Sleeping Cats Mostly Quilt
Custom Sleeping Cats Mostly Quilt
This custom patchwork quilt has a surprise. Although it is called a sleeping cats quilt, there is one cat that has decided not to curl up, can you find it?
Custom Sleeping Cats Mostly Quilt features a variety of different-colored patchwork sleeping cats against a white cotton background bordered with a custom fabric border of your choice. Each patchwork cat block has 18 fabric pieces forming the patchwork cats. These custom cat quilts are finished with very detailed machine quilting apparent when you turn the quilt over. Besides outline quilting around each cat, pattern quilting in floral vines and around each quilt block gives this made to order quilt beauty and extra dimension.
We make these charming custom quilts extra wide and longer width so the quilt will easily cover a standard bed with extra padding. One customer noted the quilt size was also perfect for a cat to hide under it without being spotted but we don't guarantee feline anonymity.
Pam Bono quilt design used with designer's permission. Polyfill. Machine quilted for easy care. Wash in cold; dry on cool.
We can also customize in fabric colors that match existing or new home decor, just provide us photos or descriptions so we can match up cats and colors.
Price is an estimate; you will get a final price once all details are discussed and prior to our starting to make your custom quilt. Please allow 12 weeks for delivery once all details are finalized. We ask for a 25% deposit of the final price prior to starting on the custom quilt; the remainder when the finished custom quilt is shipped. You will get photos along the way so you will literally see how your custom quilt is being made. Custom quilts are not returnable or refundable. Made in Missouri, USA.
To personalize, add custom embroidery along the border or in the cat blocks. Custom embroidery is priced separately.
Additional customization available after adding an item to cart.
Follow these steps to add custom embroidery:
Add this quilt to your cart
Scroll down page and add "Custom Embroidery Letter" to cart.
Scroll further down and add "Custom Embroidery Set-up Charge" to cart
Ship to a different address in gift box: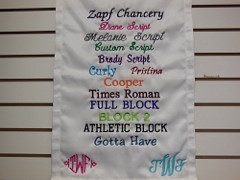 Custom Embroidery Letter
Personalization Makes Great Personalized Gift Ideas
Our products make great personalized gifts and personalized home decor for a variety of occasions or to make an occasion special!
You can add embroidered names, dates and special wishes with custom embroidery to make monogrammed and personalized gifts out of quilts, throws and other products.
Quantity is how many letters you need for your message.
Example: "Happy Birthday" in 1/2" size = Letter Size: 1/2" and Quantity: 13
Custom Embroidery Set-up Charge
Set-up charge required once for each custom embroidered product.
Rush charge available for embroidered products if you need delivery in less than 2 weeks.